venue hire
Concerts & Performance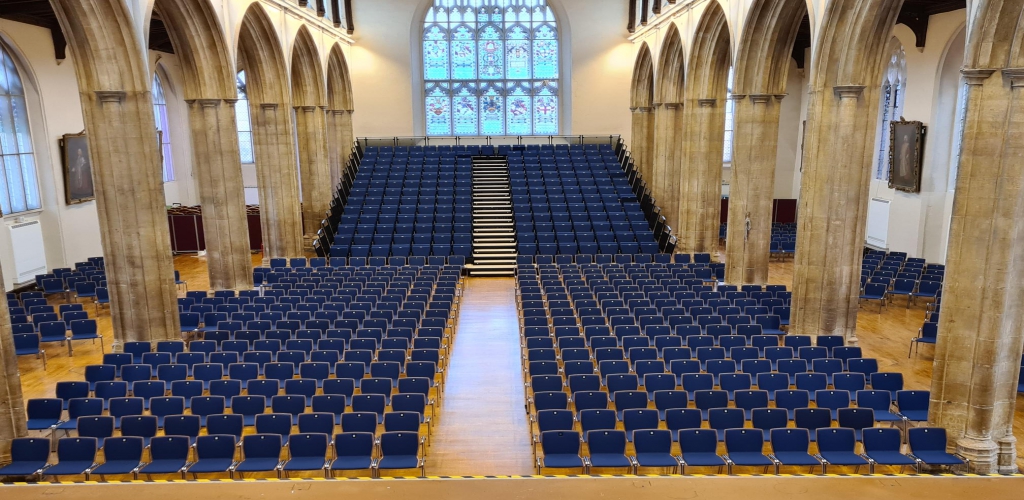 Concerts and Performance
We have two wonderful performance spaces at The Halls. These are, St Andrews Hall and Blackfriars Hall
St Andrews is the largest of the performance areas and can seat up to 777 audience members. St Andrews is a fabulous concert venue and has featured strongly in the Norfolk & Norwich Festival calendar since 1824, we have hosted orchestras from Britten Sinfonia to the London Philharmonic Orchestra, and we are the main residence for Norwich Phil. St Andrews also boasts a regular array of performances by Norwich Arts Centre as well as established jazz, brass, rock and pop acts. Home to a Steinway and Sons grand piano, which dates from 1928.
The stage is fixed and can be extended out into the auditorium with 8ft extensions. It also has a retractable tiered gallery which can be used to hold a choir of 150, supporting an orchestra of 100 on stage.
St Andrews
Set-up

maximum
number

optimum
numbers

Theatre style

(no extension​)

767
720
Theatre style (8ft extension) ​
727
680
People on stage
100
90
​People on tiers
177
150
People in choir
galleries (x2)
15
10
Blackfriars
Blackfriars can be used as a performance space in its own right hosting acoustic concerts such as piano recitals, string quartets, acoustic singing comedy or theatre. Blackfriars can also support functions in St Andrews by acting either as a VIP reception to the main event or a green room for the visiting band, orchestra or support staff. The audience capacity in Blackfriars is 252 in theatre style or 150 in cabaret style.
The Halls' fully licensed bar can be opened pre-show, during the interval and post-show events. For our full technical specification please email: thehalls@norwich.gov.uk